Signpost Inclusion Swimming Club


Swimming Lessons
We have the luxury of the exclusive hire of Fox Hollies Swimming Pool, this enables us to run our own swimming lessons, these are on a 1:1, 1:3 and 1:4 basis. Lessons are very popular and we currently have a waiting list, for more details on these please contact us.
Family Fun Swim
We run Family Fun swim sessions once a month for families of children who have additional needs. This is an opportunity to have fun together and meet other families in a safe and understanding environment. There are big floats, beach balls and other water toys so its great fun for everyone regardless of age.

Family Activities


Seasonal Activities
Through the year, Signpost Inclusion run Seasonal Activities for children with additional needs and their families, including Easter, Summer, Halloween & Christmas. We have Easter egg hunts, pumpkin carving and even a Santa experience. Our children look forward to these events and they always book up fast.
School Holiday Activities
At Signpost Inclusion, we understand that school holidays are difficult, the summer holidays especially, which is why we run activities during the school holidays too. Some of these fall in to our seasonal activities. We run activities through the summer holidays, these are varied and we produce a summer timetable to help parents and carers book these sessions. We always try to aim these at the whole family including siblings.
Taster Sessions
Taster sessions are sessions that are run on a one-off basis, these can be activities we run 2-3 times a year which work well that we cannot run over several sessions for a workshop or trials of new ideas to see if they work. We are hoping to have more new activity taster sessions next year creating new contacts and future opportunities.
Adventure Activities


Climbing Club
There are two climbing clubs which run on the first Friday of every month. There is an advanced climbing club and a family climbing club. This is based at Creation Climbing Centre and climbers work towards National Indoor Climbing Award Schemes (NICAS). This is a great activity to improve fitness, confidence and communication skills as well as having fun. Siblings are also welcome to join the group.
Sailing Club
Sailing runs once a month on a Saturday at Olton Mere Sailing Club, between April and October. These are fully supported sessions available for all regardless of sailing ability. These sessions are full of fun challenges and are aimed at helping improve confidence, self-esteem, and social skills.
Ackers Sessions
We use Ackers Adventure Centre for various activity sessions throughout the year. These activities are family aimed and can include things like canoeing, adventure treks, zip-wire and archery.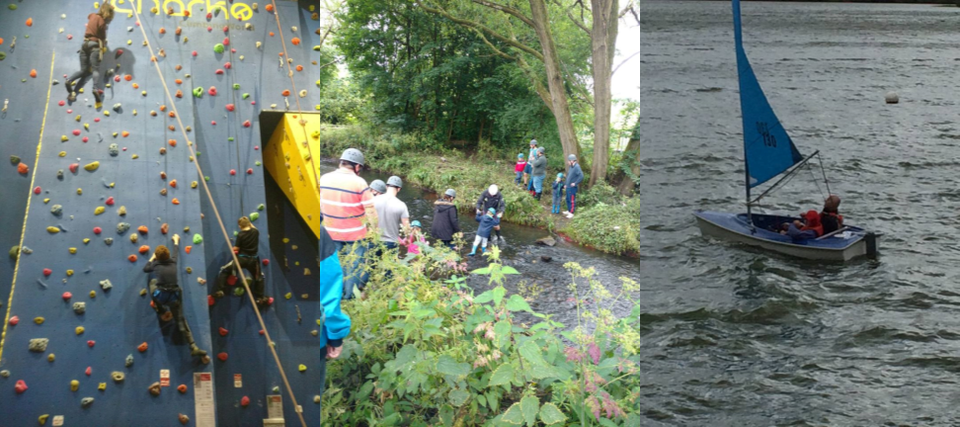 Youth
Youth Group
The Signpost Inclusion Youth Group is for young people who have additional needs. We have two groups aged between 11-17 running from Hatchford Brook Community Centre and an 18+ external social group. The 11-17 group has access to a wide variety of activities within the centre and our youth staff ensure the group is enjoyable and challenging, whilst ensuring that everything planned, conducted, and led safely. The youth groups aim is to get our young people to reach their full potential, helping them to integrate and manage themselves in the world. It also gives a great time out and relaxing space to make new friends and build confidence and self-esteem. Our 18+ group has the opportunity to go out to local activities, led by our youth team.
Gaming Club
We currently run a gaming club, this was flagged up by our young people as something that they all enjoy and would like us to do. As parents, we realize the difficulties in the attachment our children have with electronics so here we allow this in a secure environment where they can socialize with peers at the same time. We now run gaming club fortnightly based at Hatchford Brook Community Centre. The young people who join us have access to several gaming consoles and games and the option of board games.

Clubs & Groups
Singing
We run a weekly singing group, during term time, with Gemma Mills from Born2Sing, Fridays at Hatchfordbrook Community Centre.
Dance
In conjunction with DanceBugs we run a weekly, term time, dance club. Thursdays at Hatchfordbrook Community Centre.
Footy Fun
With Solihull Moors we currently run a weekly, term time, fun football skills and teamwork club. Thursdays at Hatchfordbrook Community Centre.

Mini Projects
Throughout the year we have taster sessions for various activities, if these go well and are thoroughly enjoyed we like to run mini projects or workshops over a number of sessions. We have previously done this for both family activities and family aimed adventure activities, we have recently run animation and woodwork workshops and adventure projects.